The Christian Science College Organization (CSO) at Syracuse University

Call Sam for dates & times of meetings.

Samuel P. Clemence
Interim Dean Hendricks Chapel, Meredith Professor Emeritus
Rm. 003  Hendricks Chapel   Syracuse University   Syracuse, New York 13244
t 315.443.2902   f 315.443.4128   e [email protected]
History of Christian Science College Organizations (CSO)
Christian Science Organizations started with a student named Wilfred Cole at Harvard University in 1904. Up until that time, the Christian Science students on that campus had organized an annual gathering in which they would invite a notable person from the movement to give a keynote speech. Eventually the university denied them permission to hold these meetings on campus because they weren't an officially recognized group.
But Cole saw the need to share Christian Science on university campuses. He felt that the structure and stability of an official organization was needed to do so. He wrote,"My experience of college life and subsequently in the Harvard Graduate School (1900-3) gradually convinced me of the need for more Christian Science to counterbalance the materiality of education." (Burton Webster, History: Christian Science Organization at Harvard University, Archives of The Mother Church, Courtesy of The Mary Baker Eddy Collection.)
So Cole sent a letter to Mary Baker Eddy asking for a provision for an official Christian Science campus organization. He ended his letter by indicating that if he did not hear back from her he would assume that she had rejected his proposal. He never received a response, so he let the idea go for the time being. But his desire to share Christian Science stayed with him.
A year later, he was compelled to write Mrs. Eddy again. By this point, he had begun law school and become First Reader at the Cambridge branch church. This time Mrs. Eddy responded to his letter and requested him to draft a bylaw for the organization. He did so and sent it back to her. She simplified it and added it to the Manual. And that's how CSOs were born.
At first, the Harvard CSO's meetings were restricted to Christian Scientists and special invitees. But this soon changed as they began to embrace the entire campus community. While the activities of this first CSO changed over time, the constant motive of the members was to give Christian Science its rightful place on campus and to enable others to learn about it.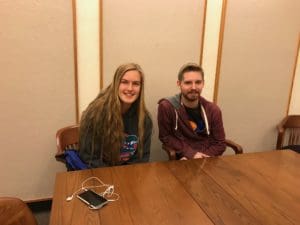 Two students waiting for the Christian Science Org meeting to begin.
What exactly is a CSO? Details here!
For a list of college orgs throughout the world, go to time4thinkers.com